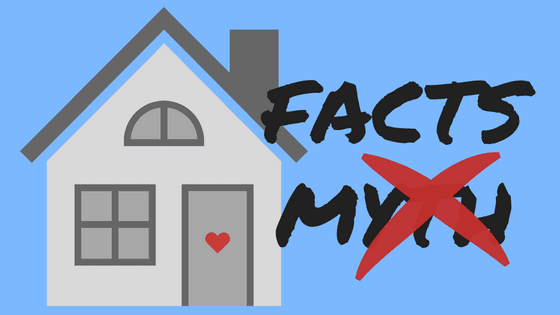 If you're thinking of buying and selling, you must have heard a lot of myths about real estate. These myths might have a great factor in why you keep holding back on buying your dream home. Let's take a look at these top myths and the reasons why they need to be busted!
1. It's Cheaper to Rent than to Buy
Renting might seem cheaper at first glance but considering in the long run buying a home would accumulate into a significant amount of savings. According to a survey, 88% of property managers have raised their rent in the last 12 months and the trend does not appear to be coming to a halt. They would prefer to get a new tenant at a higher rate than retain the old tenant and renegotiate or renew a lease.
2. You Need a Near-perfect Credit Score
While it does help to have an excellent credit score to be approved for a home loan, those that have a fairly average credit score still have a fighting chance. Average FICO score for approved loans in June 2018 is723 for all loans, 756 for Conventional, and 677 for FHA loans. Some can even negotiate with the lender by explaining to them if you've dealt with late medical bills or hefty student loans.
3. Student Loans Won't Qualify You for a Home Loan
Student loans might weigh you down but it definitely won't stop you from buying that dream home. Debt-to-income ratio or how much you earn each month versus how much you owe is still a major factor that Mortgage Lenders are looking into. It's just a matter of managing your expenses versus your income.
4. A Big Down Payment Is Required
The standard down payment is still at 20% but there are other options that you can look into. If you have good credit, federally insured loans can have a down payment of as little as 3.5%. There are also Low & no down payment options but this can lead to a higher interest rate.
5. Find a House to Buy Then Apply for a Pre-qualification for a Mortgage.
On the contrary, this should be done in reverse. Figuring out the kind of loan you'd apply for, checking your score, and knowing how much you can potentially loan would be a great help in finding the home that is perfect for you. Your Realtor® can help you find a house in your chosen neighborhood that is within your budget.
Getting into real estate can be confusing for many. Luckily, we Realtors® are here to help you out every step of the way. If you have questions about buying or selling a home,

please contact me today

. We'd be honored to be part of this very exciting part of your life!